Things are moving along pretty smoothly. Hopefully they keep going that way and it doesn't decide to start taking forever. My csection date is set and I'm ready to meet this child. The question of "What is it?" is starting to drive me nuts! It is at least later this time that the question has started bothering me, with the girls it was much earlier.
Emily is really excited and hopes that its another girl. I really truly don't care. I'd like to have a boy so dad can have his boy, but girls..... I know what to do with girls. I like girlie stuff.
This child is currently nestled into my ribs and I cannot breathe. When I try and make it move it wiggles itself painfully underneath my ribs. For days its been head down but I guess it decided to change positions and torture mom. Its a very active baby for the most part, it has occasional days where I'm left thinking "OMG it hasn't moved all day! Its dead, it has to be dead". Always fun to have those days. Most of the time I can't even bring myself to pull out the trusty doppler because the bigger it has gotten the harder it is for me to find it unfortunately. Which creates worry where I don't need it. I feel so much smaller than I did with the girls. I don't have the nice firm stomach, its floppy and mushy and I'm still less weight than i was with either of them at this point.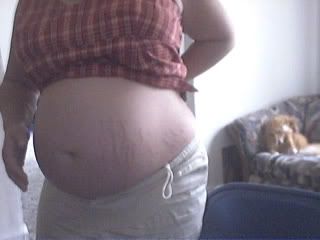 Here I am 36 weeks with Emily.
Here is me pregnant with Megan at 7 months, don't know the weeks.
Here is me now at 33 weeks so I guess I'm actually right where i was with them but I just feel smaller and can't help it lol!
Anyways thats all for the update I suppose.